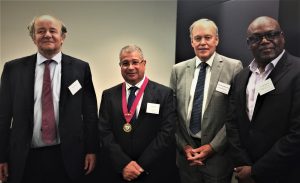 L-R: John Whittaker, partner, Clyde & Co LLP; Paul Rose, Chair and convenor, CIArb London Branch; Phillip Howell-Richardson, Independent Mediators and Dr Tunde Ogowewo, Dickson Poon School of Law, King's College, London.
Phillip Howell-Richardson was invited to speak at an event considering the pros and cons of mediation given the unique challenges of investment treaty disputes. A typical dispute might be a multinational corporation claiming that a sovereign state has not abided by a bilateral trade agreement or multilateral trade treaty following inward investment. The event took place on 4 July 2019 with the expert panel shown in the photo presenting on the subject followed by a Q&A.
Each of the experts on the panel set out different perspectives on the topic.
Phillip offered some reflections on the arguments for and against mediation in investment treaty disputes based on his experiences mediating between commercial organisations and states. He felt that mediation did present great possibilities. The process is a negotiation between the state and the investor, where the mediator coaches, challenges, manages the process and helps the parties craft a deal that meets their needs. The state may be able to further the company's commercial objectives in a way other than paying money. It can be a very long process, perhaps taking years, and the first few weeks or months may be spent finding out who the decision-maker is, and establishing trust in the mediator. The mediator is likely to be expected to lead the settlement process, and is unlikely to be a hands-off facilitator. Any settlement proposal needs to show a sustainable benefit for the state, so it will survive a change of government. His conclusion was that mediation was a valuable alternative to arbitration for investor-state disputes.