We have been a very proud supporter of the inaugural London International Disputes Week. The event so far has proved to be as promised which was an unrivalled opportunity for lawyers, judges, arbitrators, academics and others involved in using or administrating dispute resolution across diverse sectors to explore and debate the future of dispute resolution and London's place within the international disputes market.
Our team have been attending various sessions throughout the week and feedback so far has all been positive.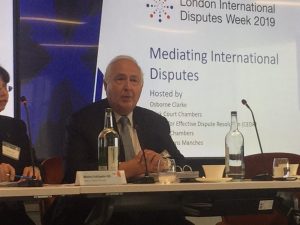 Michel Kallipetis QC presented a session on the enforceability of mediated settlement agreements in international disputes looking at the Singapore Convention. This took place within the Mediating International Disputes session.
My only feedback for next time (I hope there will be another one) is more sessions on mediation please!