CV Magazine - UK Corporate Excellence Awards 2018 - Most Outstanding Mediation Chambers 2018 - UK
The Corporate Excellence Awards 2018 are handpicked by CV Magazine and are based purely on the comprehensive analysis of both qualitative and quantitative research undertaken by the wider group. It provides the chance to promote talent on a truly global platform.
This proven approach ensures that they award on merit, not popularity and recognise the very best in business; from a single office firm to an international conglomerate, they award those that are succeeding in their endeavours, innovating, growing and improving.
Finance Monthly - Global Awards 2018 - Mediation - Firm of the Year - UK
The Finance Monthly Global Awards recognise and celebrate companies and individuals who have delivered the highest quality results during the last 12 months – participants will have exceeded client expectations and demonstrated measurable achievements over the last 12 months.
ACQ5 - Gobal Awards 2018 - UK niche Independent Law Facility of the Year
Since inception, the ACQ Global Awards have been celebrating achievement, innovation and brilliance in their annual programme, taking the ultimate step in the search for the most outstanding organisations & professionals across the globe and celebrate the best in achievement, ability and performance.
They boast a legitimately independent nomination process, most importantly, award winners, are chosen by the industry itself.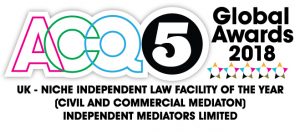 Corporate LiveWire - Global Awards 2018 - Dispute Mediator of the Year - Michel Kallipetis QC
The Corporate LiveWire Global Awards 2018 recognises excellence from all sectors and offers the opportunity for leading professionals and companies who have stood out for being ethical, results driven, innovative, and service focused to showcase their expertise, and highlight developments in their industry.
Who's Who Legal Awards 2017 - Mediator of the Year
Who's Who Legal Awards celebrate the World's leading legal practitioners in specific practice areas. They are the individuals and firms that have performed exceptionally well in their research. After in-depth assessment of their findings, they identify a lawyer and a firm of the year in each of their featured practice areas. We are delighted to announce that in 2017 Michel Kallipetis QC was awarded 'Mediator of the Year.'
Corporate Vision Magazine - UK Corporate Excellence Awards 2016 - Best Mediation Chambers 2016
Success takes many forms in the business world and ranges from the ability to consistently deliver high quality service and products, to being the driving force behind innovation in their industry, thus helping the everyone involved in their sector to thrive.
As such, the 2016 UK Corporate Excellence Awards focus on firms across the United Kingdom who have proved, without a doubt, that they have been achieving business excellence despite the challenging conditions that this year has presented. Firms of all sizes, ages, specialisms and values are featured here; Corporate Vision Magazine believe in rewarding any firm that has created a reputation founded on their dedication to excellence, and which has shown that they are at the forefront of their sector.
Lawyer Monthly Legal Awards 2015 – Mediation Firm of the Year 2015
The Lawyer Monthly Legal Awards recognise the achievements of law firms and individuals who have delivered exceptional results for their clients over the past 12 months – whilst operating in a challenging business environment.
The 2015 Lawyer Monthly Legal Awards recognises all those firms that have dedicated their resources to innovation, built on their depth of expertise and performed outstandingly over the year.
Acquisition International – Dispute Resolution Awards 2015 – Best Dedicated Mediation Chambers – UK
AI Magazine is a monthly magazine launched over five years ago. It has rapidly risen to more than 108,000 subscribers in over 170 countries.
The Acquisition International 2015 Dispute Resolution Awards are designed to commend those in the dispute sector dedicated to providing exceptional service throughout the industry.
ACQ Global Awards – Dispute Resolution Awards 2015 – UK Commercial Mediation Chambers of the Year
ACQ Annual Award Programmes recognise organisations and individuals that have achieved outstanding commercial success in designated areas of practice. ACQ boast a legitimately independent nomination process and most importantly, all award winners are chosen by the industry itself. Online surveys are conducted of their 119,000+readers to make the final selection of the winners.