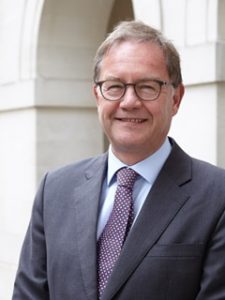 Our new 'Meet the Mediator' feature continues with Andrew Paton and will feature a different mediator in each issue. Here the mediators share suggestions on maximising potential for reaching a settlement (in their opinion), strategies or techniques they find useful in breaking a deadlock, a mediation they will always remember and why and some of the changes they have witnessed in the mediation landscape during their time practising in the field.
How does your background as a solicitor benefit your work as a mediator?
I was a disputes lawyer with Pinsent Masons from 1981 to 2016. I acted for claimants and defendants in the County Court, High Court, Court of Appeal and in one instance the House of Lords (as the Supreme Court used to be known!). I also had experience of Tribunals and Arbitrations. Much of my practice was in the area of professional negligence, insurance and construction but in fact over those 35 years I was exposed to all manner of disputes.
From 1990 (when I trained as a mediator) I built a mediation practice which saw me doing up to 60 mediations a year by the year 2000. I have experienced mediations not just as a mediator but also as an advocate and, perhaps unusually, as a client as I dealt with all the claims against Pinsent Masons from 1997 until my retirement from the firm. I feel that my experience helps me as a mediator to create relationships with the lawyers and their clients because I know pretty well what it feels like to be in their shoes. 
What led you to move into mediation?
In 1999 the senior partner received a letter from a new mediation company inviting interest in becoming a member. He handed it to me as a relatively junior litigation partner. That was a lightbulb moment. As I researched what mediation was about I was very quickly convinced that this was a better way to resolve disputes. 
What type of cases have you been involved in as a mediator?
In the early days there were not many opportunities to practice as a mediator (and not many mediators it has to be said). I had an extremely wide practice (because I would take on virtually anything that I was offered) that included clinical negligence, employment, personal injury, unfair prejudice as well as all forms of professional negligence, insurance, construction and commercial disputes. It is these last three areas that now account for the majority of the matters I mediate.  
What are one or two of the mediator techniques or strategies which you find particularly useful in breaking a deadlock?
Decision maker to decision maker meetings
Simultaneous 'sealed bids' 
Disputes can often be quite complex and multifaceted. To what extent do the various elements – such as industry, size of company, jurisdiction of conflict, etc – play a role in your approach?
I don't think that I vary my approach according to any of these elements. Each case is unique and I try very hard to adapt what I do to the needs that I perceive / feel of the parties on the day.
Is there a mediation that you will always remember? What difficulties or examples of excellence did it possess and how did you learn from these?
Having undertaken in excess of 1100 there are so many that stand out. One experience in particular however taught me the incredible value of the joint meeting if approached in the right way. The claimant explained what had happened in his own words and afterwards the defendants lawyer observed that, whilst they had previously been incredibly sceptical that the claimants evidence would be preferred to that of their client (this was a solicitors prof neg case and liability turned on what advice had been given) having heard him, his story was so simple and so compelling the question was now how much to offer rather than whether to offer anything at all. 
Do you have any tips or suggestions for participants on how to maximise the potential for reaching a successful settlement?
Remember that the joint meeting is a unique opportunity to speak to the decision maker on the other side.
Focus on needs rather than wants.
Hardly any dispute can be fairly regarded as risk free.
Making risk based concessions usually builds trust in the other side
Don't negotiate with the mediator. Negotiate through the mediator. 
What's the best part of your job?
The people I get to meet and (I can't deny it) whilst I know that my job is not to settle cases (that is for the parties…they need to do the 'heavy lifting')  it has to be said that the journey home after an exhausting day mediating is so much nicer if a deal has been done. 
What changes have you seen in the field in the time you've been practising as a mediator? Have these changed how you mediate?
A greater reluctance to have joint meetings which means that I sometimes have to spend time encouraging people to have a go.
When you are not mediating what do you like to do?
In no particular order:
Road cycling
Dinghy sailing
Golf
Walking (like golf but with different equipment)
Family